Palenque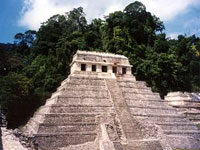 Palenque © Judith Duk
The setting for this spectacular ancient Mayan city is splendid, a hauntingly beautiful site engulfed in the endless tropical jungle that bristles with the shriek of insects. The architecture is fantastic and for many Palenque is the most remarkable of the major Mayan sites. The city was at its peak in the seventh century, and was an important ceremonial centre and the provincial capital. The buildings that are visible today form only a small part of what it once was, and only a few of the remaining buildings have been properly excavated. The reason for the city's decline is still a mystery. Early morning is the best time to capture the setting at its most photogenic, when swirling vapours encircle the temples and the jungle. The slippery jungle paths climb steeply past waterfalls and between trees, past ancient settlements scattered around the jungle-clad hillsides, and rewarding views from the temple tops take in the sweeping plains in the distance. The highlight is the tallest and most important of Palenque's buildings, the magnificent Temple of Inscriptions. Constructed on eight levels, there is a steep central stairway of 69 steps leading to the rooms at the top. The rear interior wall is decorated with panels of Mayan hieroglyphic inscriptions describing the history of Palenque and the temple. There is a museum near the entrance of the site.
Address: Four miles (6.5km) from Palenque town.
Transport: Frequent minibus services from Palenque town.
Opening times: Daily 8am to 4.30pm.