Hassan Tower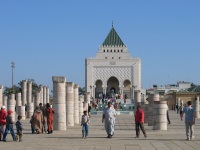 The site of Hassan Tower, Rabat © Fabos
The massive Hassan Tower, which dates to 1195, is the minaret of a mosque and towers over the capital, Rabat. However, the huge Rabat Mosque itself was never completed and was largely destroyed in an earthquake in 1755.
The mosque and the minaret were intended by the builders to be the largest in the world but today all that is left of the mosque is several walls in various states of ruin and 200 columns. Also, the minaret, made from striking red sandstone, is unusually situated at the centre of the mosque building, and was intended to be 262ft (80m) high, though it stands at 164ft (50m) today. Each façade of the minaret is intricately patterned with different motifs on each face.
Opposite the mosque is the Mausoleum of Mohammed V, one of the great monuments of modern Morocco, inaugurated in 1967. The deceased king, Mohammed, lies entombed in white onyx, surrounded by royal guards, and hundreds of Moroccans pay homage by filing through the mausoleum each day. The tower, what remains of the mosque, and the modern mausoleum form an important historical and cultural complex which has been declared a UNESCO World Heritage Site and is a popular tourist attraction.