Grand Socco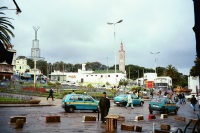 The Grand Socco, Tangier © Chris Yunker
The word socco is the Spanish version of souk, meaning market, and has stuck to this square in the heart of Tangier because of its Spanish heritage.
The square is, however, no longer a marketplace, but rather a city crossroads and huge taxi rank, fronted by cafés, outside the fortified old part of the city. The Grand Socco has developed something of a reputation for being a meeting place for criminals and drug dealers, but it is still an interesting spot to spend time watching the passing parade, particularly the Rif women in colourful traditional costume touting vegetables and fresh mint. It is also the hop off point for entry to the medina, for admiring the luxurious Mendoubia Gardens on the north side, and the mosaic-studded minaret of the Sidi Bou Abid Mosque to the west.
The Grand Socco is particularly active at night, when food stalls and second-hand goods stores pop up and the square takes on some of its traditional function as a market, and tourists should be vigilant and should not openly display wealth; however, the crime in the Grand Socco is generally petty and opportunistic.