Dar el Makhzen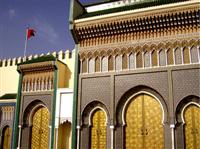 The Royal Palace © Jules Antonio
A collection of art from all over Morocco is housed in the imposing Dar el Makhzen, a former sultan's palace dating from the 17th century.
The art collections are housed in the prince's apartments, which are breathtaking with frescoed ceilings, sculptured plasterwork and intricate mosaics. The art on display has been assembled from all regions of Morocco, and includes firearms decorated with marquetry, pottery, carpets from Rabat, silks, and bound manuscripts from Fez. The Dar el Makhzen palace is home, too, to a fascinating museum of antiquities relating to Morocco's pre-history, gathered from archaeological sites such as Lixus, Cotta and Volubilis. The museum includes a lifesized model of a Carthaginian tomb, and a reproduction of an ancient necropolis, which is situated in a peaceful Andalusian garden.
This palace is not to be confused with the Dar el Makhzen in Fez, which is famous for its stunning golden doors and intricately carved and tiled gateway, but is not open to the public. The Sultan's Palace in Tangier is situated on one of the highest points of the city and therefore affords visitors some glorious views and excellent photographic opportunities.