Sossusvlei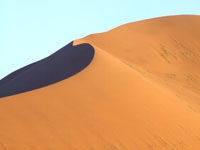 Sossusvlei dune © Judith Duk
One of the most popular highlights in Namibia are the clay pans of Sossusvlei in the Namib Desert. The enclosing ochre sand dunes are among the highest in the world, reaching more than 960 feet (300m) and are a wondrous sight of endless rolling shapes and sharp crests sculpted by the wind.
Developed over millions of years, their constantly changing forms rise and fall at the mercy of the wind. Climbing their summits provides an ethereal and magnificent sight, with views of shifting sand stretching off to the horizon beneath a sunrise or sunset.
The most impressive pan is Deadvlei, a vast and hollow depression of dry cracked mud scattered with ancient camel thorn trees. The harsh and blasted shapes of dead trees push up from pale clay, the contrasting colours being a photographer's delight.
Water fills the pans only after heavy rainfall, occurring only once every couple of years. But the solid clay layers hold the water for a long time, providing a habitat for countless water birds and a drinking hole for animals.
The beautiful black and white Oryx, a large, spiral-horned antelope, is occasionally spotted in the meagre shade of the thorn trees, lizards leave their tiny trails on the pristine mounds of sand, and the black 'tok tokkie' beetle is commonly seen stumbling over the sun-baked jigsaw puzzle pieces of the red clay surface.
The area is also home to ostriches and springbok. Visitors should note that the sand dunes of Sossusvlei are located roughly 37 miles (60km) from the Sesriem Gate, which is the entrance to the park. The drive from the gate takes about an hour.
Opening times: Sunrise to sunset.
Admission: NAD 80, NAD 60 (SADC residents), vehicles NAD 10