Anne Frank House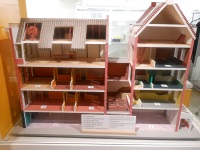 Model of Anne Frank House © Alexisrael
This museum is dedicated to the memory of Anne Frank, whose famous diary, recorded over a two-year period, describes the experiences of a Jewish teenager during World War II. Part of the house that is now the museum was used as a hiding place by the Franks and others to escape Nazi persecution. The hidden attic area where eight people lived in hiding can be explored and brings home to tourists the cramped and fearful existence described by Anne in her diary. The families were later discovered and sent to their deaths in the concentration camps. Otto Frank was the only survivor.
The original diary is on display as part of the permanent exhibition and there is plenty of information on the lives of the people involved - it is not necessary to have read the diary to appreciate the museum. The museum also hosts temporary exhibits that focus on related issues. One of Amsterdam's most famous tourist attractions, Anne Frank House is a must for visitors of all ages. Due to its popularity, however, queues outside the museum can get excruciatingly long, especially in peak tourist season, so it is recommended that visitors book online enabling them to use a separate entrance, or arrive as early as possible.
Address: Prinsengracht 267 (Westerkerk)
Website: www.annefrank.nl
Telephone: +31 20 556 7105
Opening times: Open daily from 9am to 7pm, and Saturdays 9am to 9pm (November through March); from 9am to 9pm daily, and Saturdays 9am to 10pm (April through October). Note that the queues can be very long, but that tickets can be bought online in advance.
Admission: €9 (adults), €4.50 (children aged 10 to 17)