Van Gogh Museum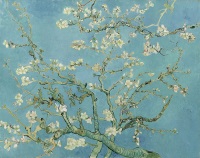 Almond Blossom, Vincent Van Gogh © Public Domain
The Van Gogh Museum is a definitive tourist attraction in Amsterdam. Situated in a modern building, the simple architecture subtly underscores the artists' colourful and extraordinary work. The museum houses the largest collection of Van Gogh's work in the world, comprised of more than 200 paintings, 437 drawings and 31 prints. Many of his most famous and recognisable paintings are on display in this remarkable museum. The collection is organised according to three criteria: the first of these is the work of the artist, which is divided into five notable periods; then there is the display of work of other artists, including those of his friends and contemporaries; and finally the third section is the showcase of the museum's history, recording its progress with a feature on the development of the new wing designed by Japanese architect Kisho Kurokawa, built to house the temporary exhibitions. The written information provided is good and sufficient for many visitors, but the audio guide is definitely worth hiring for Van Gogh fanatics who want a more in-depth analysis. Photography of the art itself is not permitted, though visitors can take pictures in the main hall. Large bags will have to be left in the cloakroom facilities as they are not permitted in the museum.
Address: Paulus Potterstraat 7
Website: www.vangoghmuseum.nl
Telephone: +31 20 570 5200
Opening times: Open daily from about 10am to 6pm (until 10pm on Fridays). There are slight variations in opening times according to season - check the website for details.
Admission: €17 (adults), children under 18 are free.