The Rijksmuseum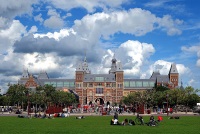 Rijksmuseum, Amsterdam © Velvet
The Rijksmuseum was opened in 1885 and is best known for its collection of 17th-century Dutch Masters such as Rembrandt, Vermeer, Frans Hals and Jan Steen. The most notable of these paintings is Rembrandt's masterpiece The Night Watch which has pride of place. The museum contains thousands of other paintings spanning from the Middle Ages to the 20th century, in its Asiatic collection, Print Room, Dutch History, and Applied Arts sections, and although it is most coveted for its paintings, the collection also includes stunning furniture, jewellery, ceramics and other artefacts. Nestled within the garden is a collection depicting five centuries of Dutch architecture.
It is advisable to consult a map or purchase a CD audio tour to help navigate through the extensive collection of the Rijksmuseum and to allow plenty of time for your visit - at least a few hours are needed to explore thoroughly. Surprisingly, photographs are permitted inside, but flash photography is not. Overcrowding is a problem in the Rijksmuseum and it is best to avoid the busiest times: the museum is most crowded between 11am and 3pm on Fridays, Saturdays and Sundays. Buy tickets in advance online to minimise queuing, but note that when the museum is full even those that arrive with tickets may have to wait. The Rijksmuseum is one of the Netherlands most famous and most popular attractions and a must-see in Amsterdam; it has recently reopened after an extensive renovation project and is more impressive than ever.
Address: Museumstraat 1
Website: www.rijksmuseum.nl
Telephone: +31 20 674 7000
Opening times: Open daily from 9am to 5pm.
Admission: €17.50 (adults). Under 18s are free and concessions are available.