Stedelijk Museum of Modern Art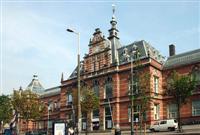 Stedelijk Museum © bMA
The Stedelijk Museum of Modern Art closely traces the developments in art of the second half of the 20th century, showcasing the most impressive collection of modern art in Amsterdam. The permanent exhibition focuses on De Stijl, Cobra, Nouveau Realisme, Pop Art, Colorfield Painting, Zero and Minimalist Art, while temporary exhibitions on design and applied art are housed in the new wing. Many of the masters of modern art are represented here, including Cezanne, Chagall, Picasso, Warhol, Pollock and Lichtenstein, and there is a huge range of mediums, as one would expect from a modern art exhibition. The building is cool and artistic and seldom crowded which makes it a breath of fresh air after some of the packed tourist spaces in Amsterdam. Numerous events, like workshops and book launches, are hosted in the museum and there is a shop, restaurant and library. There are audio guides available in at least six languages and guided tours by experienced professionals every Sunday. The guided tours are free and conducted in Dutch and English but cannot be booked in advance - those keen to join must sign up at the museum on the day of the tour.
Address: Post CS building, Oosterdokskade 5 (temporary location until end of 2008)
Website: www.stedelijk.nl/en
Transport: A few minutes walk from Central Station following the signs 'Route Oosterdok', or tramline 25 and 26 from Central Station, stopping at PTA or Muziekgebouw
Opening times: Open daily from 10am to 6pm. Thursdays 10am to 10pm.
Admission: €15 (adults), €7.50 (children 13 to 18), children under 12 free. Concessions available. Admission costs may be upped when special exhibitions are featured.