Rembrandt House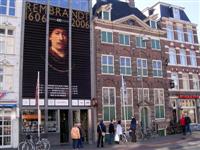 Rembrandt House © Michiel1972
This museum provides an insight into the life and times of the famous Dutch master. Rembrandt lived here between 1639 and 1658, the pinnacle of his career. The famous artist went bankrupt in 1656 and a list of his possessions was drawn up to pay his debts; this list has allowed the historic interior of the house to be restored faithfully with exactly the kinds of furnishings the artist owned. The museum presents a permanent collection of Rembrandt's work (including etchings and sketches as well as paintings) and a reconstructed 17th-century studio, together with regular temporary exhibitions and a collection of paintings done by his teacher, Pieter Latman, as well as some of the work of Rembrandt's pupils. In the painting studio there are daily demonstrations on how etchings and paintings were made in the 17th century, including an interesting demonstration on his use of colour and where he would have gotten the paint. Although the admission cost is quite steep for a small museum, the price does include a great free audio guide and Rembrandt House is a very popular attraction in Amsterdam. An hour is enough for a self-guided tour, unless you want to linger and bask in the 17th-century time bubble.
Address: Jodenbreestraat 4
Website: www.rembrandthuis.nl
Telephone: +31 20 520 0400
Opening times: Open daily from 10am to 6pm.
Admission: €13 (adults), €4 (children 6-17). Concessions available.