Amsterdam Museum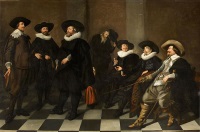 Abraham de Vries - Portrait of the regents of the Amsterdam city orphanage in 1633 © Public Domain
Housed in a lovely 17th-century building and formerly an orphanage, the museum explores Amsterdam's development from a small medieval settlement into a thriving modern city. Its galleries showcase the progress made in each century, particularly Holland's Golden Age. Visitors can enjoy a showpiece of glass, gold, silver, earthenware and other artefacts, as well as Dutch Masters' paintings, and archaeological discoveries. Seeing the large exhibition will take at least two to three hours. The entry fee also covers the glass-roofed Civic Guards Gallery, which is lined with portraits of Amsterdam's Civic Guards dating back to the 17th century. A pleasant museum café sells refreshments.
Address: Kalverstraat 92
Website: www.ahm.nl
Telephone: +31 20 523 1822
Opening times: Open every day from 10am to 5pm. Closed on some public holidays.
Admission: €15 (adults), free (children aged 0 to 17).