The Dutch Resistance Museum (Verzetsmuseum)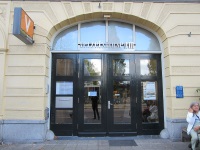 Dutch Resistance Museum, Amsterdam © Nick-D
Between May 1940 and May 1945, during World War II, the Netherlands was occupied by Nazi Germany, and this museum documents the everyday effects of this foreign invasion on the Dutch population as well as the resistance movement. A trip to the Dutch Resistance Museum, or Verzetsmuseum, is a fascinating step back in time, providing wonderful insight into ordinary life in the 1940s as well as the exciting and extraordinary espionage activities of the resistance fighters. Displays include authentic period artefacts, lots of everyday objects, photographs, weaponry, false documents used by the resistance, maps and footage to evoke the wartime period in the Netherlands. The resistance included the secret aiding and protection of Jews and this museum is well combined with a visit to Anne Frank House. The collection makes use of individual experiences and stories which is a good way of personalising history. The permanent exhibition is bilingual, catering to both Dutch and English visitors, and there are free audio guides available in English, German, French, Spanish and Dutch. Guided tours are available by appointment only and reservations must be made a few weeks in advance.
Address: Plantage Kerklaan 61
Website: www.verzetsmuseum.org
Telephone: +31 20 620 2535
Opening times: Open Monday to Friday from 10am to 5pm; Open Saturday and Sunday, and public holidays from 11am to 5pm.
Admission: €10 (adults), €5 (children aged 7 to 15). Concessions available.