The Dutch Resistance Museum (Verzetsmuseum)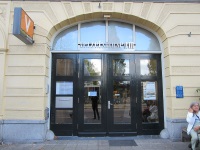 Dutch Resistance Museum, Amsterdam © Nick-D
Nazi Germany occupied the Netherlands between May 1940 and May 1945. The museum covers how the invasion affected the Dutch population's everyday lives, as well as the resistance movement. Visitors will learn details about the movement's extraordinary espionage activities, and view maps, photographs, weaponry, everyday objects, and false documents used by the resistance. The collection also personalises the history by including individual stories and experiences. The permanent exhibition is bilingual, catering to both Dutch and English visitors, and there are free audio guides available in English, German, French, Spanish and Dutch. Guided tours are available by appointment only and reservations must be made a few weeks in advance.
Address: Plantage Kerklaan 61
Website: www.verzetsmuseum.org
Telephone: +31 20 620 2535
Opening times: Open Monday to Friday from 10am to 5pm; Open Saturday and Sunday, and public holidays from 11am to 5pm.
Admission: €11 (adults), €6 (children aged 7 to 16). Concessions available.