Peace Palace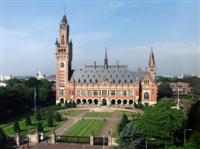 Peace Palace © Public Domain
The deliberately named Peace Palace is a significant place for arbitration, and for the maintenance and promotion of world peace. Situated in The Hague, the building houses the International Court of Justice, the Permanent Court of Justice and The Hague Academy of International Law. The International Court of Justice's first session took place here in 1946. Regular guided tours reveal the palace's wonderful gardens and impressive interiors. Visitors will also see a beautiful art collection, which various countries gifted to the Peace Palace. Tour dates appear on the official website, and must be booked in advance online. Visitors are not allowed to take photographs inside the palace, and cannot enter with luggage - including handbags. Lockers are provided, though. The Visitor's Centre (which is more of a museum) does a free audio guide and is a good option for anyone who can't go a tour.
Address: Carnegieplein 2
Website: www.vredespaleis.nl
Transport: Tram 10 to Hague Central, or bus 24 to the Vredespaleis stop
Opening times: The Peace Palace is only accessible on organised tours, which are run on certain weekends.
Admission: Tours: €7.50 to €11.