Sydney Opera House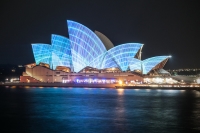 Sydney Opera House © Paxtons Camera Video Digital
It may not be an ancient monument, but the architecturally distinctive Sydney Opera House epitomises the city as much as the Great Pyramid in Cairo or the Acropolis in Athens. Situated on Sydney's harbour at Bennelong Point, this intriguing, white-sailed landmark is no white elephant. It is a fully functional performing arts centre in constant use. The complex consists of a massive Concert Hall that seats more than 2,500 people and has some of the finest acoustics in the world; a smaller Opera Theatre, also used for ballet performances; a Drama Theatre, seating about 500 people; the smaller Playhouse; and the Boardwalk dance and music venue. The building, designed by Joørn Utzon, was completed in 1973 and cost over A$100 million, most of which was raised with a series of national lotteries. There was so much controversy involved in its construction that the Danish architect returned home without ever seeing his finished product. Free performances of various types are given outside on the boardwalks around the Opera House on Sunday afternoons. A variety of tours are available.
Address: Bennelong Point, Sydney Harbour
Website: www.sydneyoperahouse.com
Telephone: (0)2 9250 7111
Transport: Buses, trains and ferries go to Circular Quay, which is a five-minute walk from the Opera House
Admission: Tours and shows vary in cost - check the official website for details.