Darling Harbour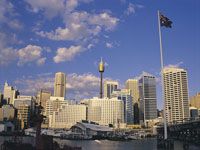 Darling Harbour © Jann Tuxford
The waterside tourist precinct of Darling Harbour, close to the central business district, is crossed by a monorail and offers plenty of entertaining diversions, museums, carnival rides, restaurants and shops. For example, there is the Imax Theatre, with Australia's largest cinema screen; the magnificent Chinese Garden, with its serpentine paths and placid pools; and the huge Star City Casino and Sydney Entertainment Centre. Established in 1988 by the local Chinese community, to celebrate their heritage and to cement the bond between Sydney and the city of Guangzhou, the Chinese Garden of Friendship is styled along Classical lines, combining the four elements of water, plants, stone and architecture to create a perfect balance. Reminiscent of the gardens of the Shang dynasty from 3,000 years ago, and a popular tourist attraction, the Garden is a wonderful place to relax and rejuvenate with the whole family - picnicking, or just walking the meandering paths, enjoying the pagoda-style structures, the expert landscaping, and the tranquil courtyards.
An absolute must-see is the Sydney Aquarium, one of the most popular attractions at Darling Harbour, and is one of the biggest and most impressive aquariums in the world. More than 5,000 Australian fish are displayed in their natural habitats, along with sharks, rays, platypus, seals, penguins, crocodiles and much more. Underwater walkways give visitors an authentic view of the unique aquatic environment. The Great Barrier Reef exhibit has live coral and many tropical fish, and visitors can take a glass-bottomed boat ride to see some dangerous sharks from up close.
Also look out for the Powerhouse Museum and the National Maritime Museum. Children will go absolutely mad for the Powerhouse Museum, where all things scientific abound and exhibits include those that will boggle the mind, and astound the senses. The Powerhouse Museum's newly opened museum storage and collection care facility affords visitors the opportunity to see attractions such as the Olympic torch carried by Cathy Freeman in the Sydney 2000 Olympic Games, Sydney's first tram, or the wacky Standfield mouse-trap making machine.
Website: www.darlingharbour.com.au
Transport: Darling Harbour is easily accessible by bus, train, monorail, light rail or ferry.