New England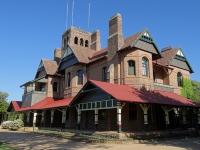 Armidale, New England © denisbin
Also known as 'Big Sky Country', the New England region of New South Wales is a place of spacious beauty where it is possible to enjoy the great outdoors in the cool summers as well as cosy hospitality in the crisp winters. The centre of New England is Australia's country-music capital, Tamworth. The city has hosted the Australian Country Music Festival every January since 1973. Tamworth's population doubles to more than 60,000 when aficionados from across the land gather for the multi-day event, which culminates in the Golden Guitar Awards.
Besides the music, Tamworth's other claim to fame is that it was the first town in the southern hemisphere to be lit by electricity. This historical fact has been enshrined in the Powerhouse Museum in town. Beyond Tamworth, the Big Sky Country includes tens of thousands of hectares of national park and provides fun outdoor activities for visitors, including horse riding, abseiling, fishing, fossicking, canoeing and bushwalking. Each national park offers distinct flora and fauna and a multitude of natural attractions.
Address: 250 miles (400km) northwest of Sydney.