Cathedral Square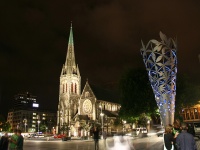 Cathedral Square is the hub of the city centre and is dominated by the city's landmark, Christchurch Cathedral, a grand Gothic structure with a tall spire, and a cool and spacious interior with marvellous acoustics. It is possible to climb the narrow staircase to the bell tower for a splendid panoramic view of the city. In front of the cathedral, the city's most quirky character, fondly known as 'The Wizard', performs his daily eccentric routine for the crowd from atop a ladder, ranting about all things from politics and politicians to religion, love and bureaucracy. Nearby the giant chessboard painted on the square attracts avid players and spectators, with enormous pieces to be shifted during strategic moves, as challengers pit their skills against one another. The cathedral was severely damaged in the 2011 eaerthquake and is currently closed for repairs.
Website: www.christchurchcathedral.co.nz
Telephone: +64 (0)3 366 0046
Transport: The cathedral is accessible on foot as it is situated in the heart of the CBD. It is also accessible on the airport buses which stop in Cathedral Square.
Opening times: Monday to Saturday 9am-5pm in winter and 8:30am-7pm in summer. Sundays 7:30am-5pm. Free guided tours available at 11am and 2pm during the week, 11am on Saturdays and 11:30am on Sundays.
Admission: Free admission to the cathedral, tower NZ$4