Christchurch Gondola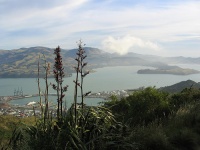 The spectacular ride takes visitors to the top of the crater rim of Christchurch's extinct volcano on the outskirts of the city, unfolding magnificent views over the Canterbury Plains and towards the Southern Alps, and the sweep of Pegasus Bay and Lyttelton Harbour, as it rises to 1,460ft (445m) above sea level. At the summit the Gondola Complex features the Time Tunnel Heritage Show with a walk-through exhibition and video relaying the history and geological evolution of the Canterbury region as well as Maori mythology. From the summit it is possible to walk back down through the Port Hills to Sumner Beach. The Gondola was damaged in the 2011 earthquake but is now once again open for business.
Address: Gondola Base Station, Heathcote Valley
Website: www.gondola.co.nz
Telephone: +64 (0)3 384 0310
Opening times: Daily 10am to 5pm.
Admission: NZ$25 (adults), NZ$12 (children 5-15 years).