Skyline Gondola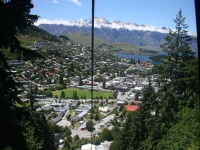 The Queenstown Gondola takes visitors up to Bob's Peak above the town, and has incredible views over Queenstown, the lake and of the Remarkables Range. At the top of the gondola is the Luge offering three-wheel cart rides for all different ages and abilities, or there are numerous walks on the mountain with beautiful views of the area. At the bottom terminal is the Kiwi and Birdlife Park featuring nocturnal kiwi houses and other endangered species of New Zealand.
Address: Brecon Street
E-mail: gondala@skyline.co.nz
Website: www.skyline.co.nz
Telephone: +64 (0)3 441 0101
Transport: Five minutes walk from the town centre.
Opening times: The gondola is open daily from 9am until late.
Admission: Gondola: NZ$25 (adults), NZ$14 (children)