Fjordland National Park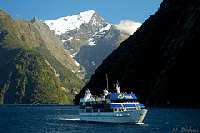 Hemmed in by towering granite cliffs and dominated by Mitre Peak, the calm deep waters reflect ice-covered mountain tops, waterfalls plummet from the cliff tops to the water below and Bottlenose dolphins play in the foaming wakes of the boats. Its grandeur was carved out during the ice ages and a close up or aerial view of the awesome scenery is a must. A variety of boat cruises or popular kayaking trips are offered and these provide opportunities to see the fur seals, crested penguins and dolphins that inhabit the sound, while scenic flights give a unique perspective on the area.
The 14-mile (22km) long fjord of Milford Sound is the most famous attraction in the Fjordland National Park. The road to Milford Sound is one of the finest alpine drives in the world with many points of interest along the way and view points to admire the sheer scale of the dramatic landscape. Travelling towards the Sound, the road approaches a seemingly impenetrable wall of rock, and the tiny entrance of Homer Tunnel, unlit and roughly hewn out of the cliff face, suddenly appears as the way through, emerging again at the top of the stunning Cleddau Canyon before dropping into the valley below. Milford is synonymous with rain, and although the mountaintops might not be visible through the clouds, the streams of water and waterfalls coursing down the sheer rocky cliffs is a magnificent sight not otherwise seen in dry weather. Tiny biting sandflies are the menace of the Fjordlands, although optimists say the rain tends to keep them away. Whether raining or fine it is impossible to ignore the powerful sense of beauty and grandeur that the landscape evokes.
Website: www.milford-sound.co.nz