Vigeland Park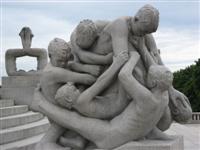 Vigeland Park is the city's most visited attraction, a vast green area of duck ponds, trees and lawns that is a monument to the celebrated Norwegian sculptor Gustav Vigeland, who spent 40 years creating the life-size statues that decorate the walkways and open spaces. There are more than 200 works presenting the human form in a variety of poses and conveying a range of emotions. At the centre of the park is the most impressive piece, the Monolith, a gigantic mass of writhing bodies carved from a single column of stone, and believed to be the largest granite sculpture in the world at a height of 46ft (14m). Surrounding the column are groups of human sculptures in various forms of interaction with each other. The most famous and most photographed piece is the Angry Boy, a fat child stamping his foot. There are many more sculptures to be seen in the park and in the nearby Vigeland Museum, featuring a display on the development of the artist's work and his sketches and plaster originals.
Address: Kirkeveien
Website: www.vigeland.museum.no/en/vigeland-park
Telephone: +47 23 49 37 00
Transport: Bus 20 or tram 12 to Vigelandsparken; all westbound underground lines to Majorstuen station
Opening times: The park is always open. The museum is open Tuesday to Sunday 12pm-4pm (September to May), and Tuesday to Sunday 11am-5pm (June to August). Closed on Mondays.
Admission: Free