The Kon-Tiki Museum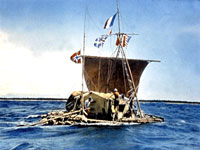 Situated on the Bygdøy Peninsula, the Kon-Tiki Museum contains the renowned balsawood raft, the Kon-Tiki, on which Thor Heyerdahl made his famous journey across the Pacific in 1947 to prove the theory that the first Polynesian settlers could have sailed the 4,300 miles (6,923km) between Peru and Polynesia. The museum also contains the original reed raft, Ra II, on which Heyerdahl sailed across the Atlantic in 1970. Besides the rafts there is a huge stuffed whale shark, artefacts from his expeditions and exhibits from his visits to Easter Island, and an intriguing collection of archaeological finds from Easter Island, Galapagos, East Polynesia and Peru.
Address: Bygdøynesveien 36, Bygdøy Peninsula
E-mail: kon-tiki@online.no
Website: www.kon-tiki.no
Telephone: +47 23 08 67 67
Transport: Bus 30 from the National Theatre, or ferry 91 from Pier 3 behind the City Hall to Bygdøy (summer only)
Opening times: Daily except public holidays 9am-5:30pm (June to August), 10:30am-4pm (January to March), 10am-5pm (April to May and September to October).
Admission: NOK 70 (adults), NOK 30 (children) from January 2012. Other concessions are available.