Hanseatic Museum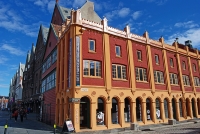 The Hanseatic Museum © Harvey Barrison
The Hanseatic Museum is housed in one of the oldest and best-preserved wooden buildings in Bryggen, the former home of a wealthy merchant. Furnished in the 18th century style, it provides a glimpse of the working and living conditions of the Hanseatic merchants during the Middle Ages.
The austere layout and maze-like rooms are saturated by the smell of fish and leave a lasting impression. Although a number of historic houses remain in the medieval district, the Hanseatic Museum is the only house left in Bryggen that has retained its original interior.
A short walk away next to St Mary's Church is the Schotstuene, a museum consisting of three assembly rooms and a kitchen once used by the Hanseatic merchants. Cooking was conducted in the Schotstuene as it was the only place in Bryggen where it was permitted to use fire. As a precaution, it was kept removed from the other buildings.
The ticket price for the Hanseatic Museum includes entry to the Schotstuene on the same day. The Hanseatic Museum is best visited on the guided walking tour which begins at the Bryggens Museum. For many travellers, the Hanseatic Museum is one of the best historic attractions in the city and if you only visit one museum in Bryggen, it should probably be this one.
Address: Finnegardsgate 1A, Bryggen
Website: xn--schtstuene-2cb.no/english