Bryggens Museum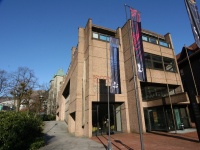 Bryggens Museum © Nina Aldin Thune
This fantastic archaeological museum was built around the remains of the oldest buildings discovered in Bergen, dating from the 12th century, and the ruins have been incorporated into the exhibits along with excavated tools, ceramics and skeletons. In 1955 parts of historic Bryggen were destroyed by fire and the subsequent excavations revealed some fascinating objects, which are now on display in the museum. The museum houses various artefacts and traditional costumes and imaginatively attempts to recreate life in the Middle Ages with displays of domestic implements, handicrafts, runic inscriptions and items relating to seafaring and trade during medieval times. The Bryggens Museum is the starting point for a wonderful historical walking tour through the UNESCO-listed district, and undertaking this tour is really good value for money as it includes entry to two other museums as well. The guided tours are offered in several languages and depart every hour or so, depending on demand. The Bryggens Museum also houses temporary art and history exhibitions - to see what's on during your visit check the official website listed below. The museum itself doesn't require much time to explore.
Address: Dreggsallmenning 3, Bryggen
E-mail: bryggensmuseum@bmu.uib.no
Website: www.bymuseet.no/index.php?spr=en
Telephone: +47 55 58 80 10
Transport: A few minutes walk from Torget
Opening times: Monday to Friday 11am to 3pm; Saturday 12pm to 3pm; Sunday 12pm to 4pm. Confirm opening hours on website as they do fluctuate.
Admission: NOK 60 (adults), children free, concessions available.