Tromsø Museum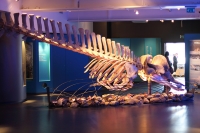 The Tromso University Museum © Nigel Harper
The Tromsø Museum is northern Norway's oldest and largest museum with exhibitions devoted to the cultural and natural history of the region. It is located on the university campus, just outside the city, and is run by the university.
There is a comprehensive display relating to the traditional culture and music of the Sami or Lapp people and their nomadic, reindeer-herding way of life, and for many people this is the highlight of the visit. The Tromsø Museum is possibly the best place in Norway to learn about the fascinating Sami culture and history.
There are also daily films about the Northern Lights, particularly good for those visiting outside of the months when the Aurora might be seen. Apart from the Northern Lights display, there are numerous other science and nature exhibits, including things like earthquake sensors, which the kids will enjoy testing.
Most of the exhibits have some information available in English. There is a good cafe for refreshments when you need a break. The bus ride to the museum is scenic and many travellers find it a fun part of the visit, but it is also possible to walk the distance and it is a pleasant stroll if you have the inclination.
Address: Lars Thoringsveg 10
Website: en.uit.no/tmu