Arctic Cathedral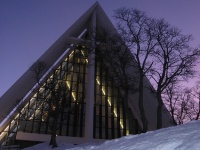 Arctic Cathedral © Carlton Browne
The spectacular design of the white and ultramodern Arctic Cathedral is visible from afar, situated on a small hill on an island and linked to the mainland by the spindly Tromsø Bridge. It is an architectural masterpiece, made up of eleven large triangular sections representing the eleven faithful apostles and symbolising northern Norwegian heritage, culture and faith.
It bears an interesting resemblance to the Sydney Opera House in Australia, but its colour and shape can also be likened to an iceberg. The cathedral has one of the largest stained glass windows in Europe, and an interior decorated with grand chandeliers made up of many prisms of colours and lights, representing hanging ice formations.
Built in 1965, the church is not technically a cathedral, despite its commonly used name. The actual Tromsø Cathedral is the only wooden cathedral in Norway and is also worth a visit. Travellers should note that the church is usually only open for two hours in the winter months, in the late afternoon, and opening hours can fluctuate so it is best to check the official website to confirm opening hours before visiting. Look out for the wonderful midnight music concerts in the church.
Address: Hans Nilsens vei 41, Tromsdalen
Website: www.ishavskatedralen.no