Polaria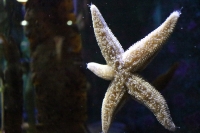 Starfish in Polaria © Lee Dyer
Polaria is an information and experience centre for the whole family, combining interactive experiences with information about the arctic environment. There is a panoramic film about the arctic wilderness of Svalbard, an Arctic Walkway that creates a snowstorm experience and the Northern Lights spectacle.
As the Northern Lights are famously unpredictable, it is nice to know that you can at least see the effect recreated at Polaria even if the lights elude you in real life. The bearded seal pool is especially exciting at feeding time, and an aquarium provides a close look at arctic sea mammals and life in the freezing waters.
There is a little gift shop for those wanting souvenirs. Polaria is best suited to families and is a good option for those travelling with kids in Tromsø. A visit will only take about one to three hours and ideally should be timed to coincide with seal training and feeding. These usually take place daily at 12.30pm and 3.30pm in the winter months, and at 12.30pm and 3pm in the summer.
Those wanting a more grown-up investigation of arctic history, particularly the explorers and seal hunting tradition, should visit the Polar Museum housed in a converted warehouse by the harbour.
Address: Hjalmar Johansens gate 12
Website: www.polaria.no