Museo de la Nacion (National Museum)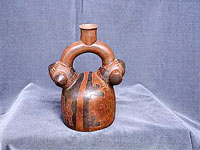 The anthropological and archaeological National Museum in Lima contains exhibits tracing the history of Peru's ancient civilisations and provides an outstanding overview of the archaeological richness of the country. It is the city's largest and the country's most important museum and the chronological layout guides visitors through the complicated ancient history, highlighting the many conquering cultures and their achievements, from the art and history of the original inhabitants to the Inca Empire. The collection includes scale models of temples and famous archaeological sites in Peru. Unfortunately the building housing the museum is cold and uninspiring (it was once the Fishing Ministry headquarters!), but the permanent collection is interesting, and the temporary exhibitions are often the most impressive and modern. The highlight of the museum is an exhibition on the internal conflict in Peru (1980 to 2000), which is on the 6th floor. Guided tours of the museum are available for a small fee and take about 50 minutes. Much of the museum still feels like it is under construction, and the little bit of signage there is is in Spanish only. Visitors must simply wander around to discover the extent of the collection, which spans a few floors. Recent visitor reviews suggest that the National Museum has become rather rundown of late.
Address: Avenida Javier Prado Este 2465, San Borja
Telephone: (0)1 476 9878
Transport: Bus marked Javier Prado/Aviacion or taxi from Lima Centro or Miraflores
Opening times: Tuesday to Sunday 9am-6pm.