Museo de la Nacion (National Museum)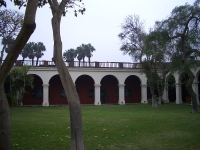 National Museum, Lima © Chiwara
Located in Lima, the anthropological and archaeological museum's exhibits trace the history of Peru's ancient civilisations. All in all, they provide an outstanding overview of the country's archaeological richness. The museum's chronological layout guides visitors through the complicated ancient history, highlighting the many conquering cultures and their achievements. Among other things, visitors can view the art and history of the original inhabitants, and the Inca Empire. Regarding more recent history, one of the museum's highlights is an exhibition on Peru's internal conflict (1980 - 2000). Visitors can enjoy guided tours for a small fee, and will marvel at the size of the collection, which spans a few floors.
Address: Avenida Javier Prado Este 2465, San Borja.
Transport: Bus marked Javier Prado/Aviacion or taxi from Lima Centro or Miraflores.