Church of San Francisco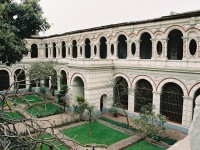 The most spectacular of Lima's colonial churches, San Francisco is a striking white and yellow building with twin towers and a stone façade. It was one of the few buildings to survive the devastation of the 1746 earthquake and is famous for its underground catacombs that contain the bones and skulls of an estimated 70,000 people. The interior of the church has arches and columns decorated with beautiful mosaic tiles and an exquisitely carved Moorish-style wooden ceiling above the staircase leading to the cloisters. The church also contains a superb 17th-century library with thousands of antique texts and a room containing painted masterpieces by Reubens, Van Dyck and Jordaens.
Address: Corner of Lampa and Ancash Avenues
Opening times: Daily 9:30am-5:45pm.
Admission: PEN 5. concessions available