Coricancha Inca Ruins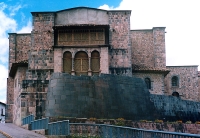 Coricancha Inca Ruins, Peru © HÃ¥kan Svensson
Coricancha is a Quechua word meaning 'Golden Courtyard', but the Inca stonework is all that remains of the ancient Temple of the Sun, which was once the most important temple in the Inca Empire, dedicated primarily to Inti, the Sun God. The walls and floors were once covered in sheets of solid gold, and the courtyard was filled with golden statues. Spanish reports tell of opulence that was 'fabulous beyond belief'. The Church of Santo Domingo was built on the site, using the ruined foundations of the temple that was flattened by the gold-hungry Spanish in the 17th century, and is a fine example of where Inca stonework has been incorporated into the structure of a colonial building.
Major earthquakes have severely damaged the church, but the Inca stone walls, built out of huge, tightly-interlocking blocks of stone, still stand as a testimony to their superb architectural skills and sophisticated stone masonry. Nearby is an underground archaeological site museum containing a number of interesting pieces, including mummies, textiles, and sacred idols. The site is best explored with a guide, as a good tour brings the place to life, whereas it is difficult to understand the significance of the remains without some background.
Address: Pampa del Castillo at Plazoleta Santo Domingo.