The Sacred Valley (Urubamba River Valley)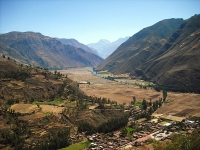 The Sacred Valley, Peru © Charles Gadbois
Known as the Sacred Valley of the Incas, this fertile valley of breathtaking beauty stretches between the villages of Pisac and Ollantaytambo. It is coursed by the winding Urubamba River, watched over by ancient Inca ruins perched high on the hilltops above, and sprinkled with small traditional settlements. Centrally situated Urubamba has the most tourist infrastructure and is becoming a popular base from which to explore the valley. The most well known sites are the citadel above Pisac and the fortress of Ollantaytambo, which receive the most visitors.
The quaint village of Pisac is known for its interesting Tuesday, Thursday, and Sunday morning markets, while overlooking the village are the ruins of the citadel, with its fine stonework and panoramic views over the valley. Agricultural terraces flank the steep sides of the mountain and have been in use for many centuries, and above them the alarmingly narrow trails that lead to the citadel hug the cliffs, with massive stone doorways, and steep stairways cut into the rock or a rock-hewn tunnel forming the only passageway between the sheer drop below and the vertical slopes above.
At the far end of the Sacred Valley, the road terminates at the ancient traditional town of Ollantaytambo, where the temple-fortress clings to the nearby cliffs. Developed as an Inca administrative centre, the town's layout is one of the few remaining models of an Inca grid plan and the existing town is built on the remaining Inca foundations. The ruins include the Temple of the Sun, the Royal Chamber and the Princess' Baths. From the town the road leads to the start of the illustrious Inca Trail.
Transport: Pisac is a one-hour bus journey from Cuzco. The Pisac citadel is a 30-minute walk from behind the main square or 20 minutes by taxi. Ollantaytambo is situated on the Cusco-Machu Picchu train route, or can be reached by bus with a change at Urubamba.