Santa Catalina Monastery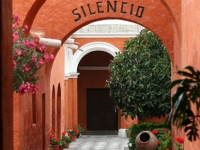 Santa Catalina Monastery © Jialiang Gao
The Santa Catalina Monastery is an enormous complex of rooms, chapels, plazas, ornate fountains, narrow cobbled streets, and beautifully decorated archways. High walls enclose these marvellous features. The thick and brightly painted walls also contain a number of cells, which once housed over 200 members of the female nobility. These women chose to shut themselves away from the world and devote their lives to prayer. The monastery opened its doors to the world some 400 years later, allowing visitors to wander through its exquisitely finished gates and admire its valuable collection of Spanish American religious art. Today, about 30 resident nuns live out of sight in the northern part of the complex. Visitors should make a point of seeing the monastery's Orange Tree Cloister, which is painted sky-blue and has wonderful murals on its vaulted arches. The huge 17th-century kitchen is another highly recommended sight.
Tourists should walk along the narrow street known as Calle Toledo as well. It is the oldest part of the monastery and leads to the open-air laundry, where nuns washed their clothes in large jugs filled from the canal. Unlike any other church compound, Santa Catalina is a masterpiece of colonial architecture, and is the most fascinating religious complex in Peru.
Address: Santa Catalina 301.
Website: www.santacatalina.org.pe