San Agustin Church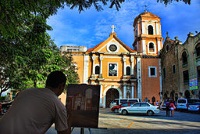 San Agustin © Ricardo C. Eusebio
Within Intramuros stands Manila's oldest stone church, San Agustin, which was completed in 1607 and has since survived the ravages of time and successive invasions. Legend has it that the church was the only public building left undamaged after a terrible earthquake in 1863, and it has withstood a number of other big earthquakes since.
It was even used as part of a concentration camp for prisoners by the Japanese during World War II. The church has a magnificent and intricately-carved door, a Baroque pulpit, and an 18th-century pipe organ. Along with three other churches in the Philippines, San Agustin has been designated a UNESCO World Heritage Site under the collective title 'Baroque Churches of the Philippines'. It is also a National Historical Landmark. A museum is housed in the monastery (administered by the Order of Saint Augustine) alongside the church, which holds paintings of saints and other religious art.
The Sacristy houses a collection of richly embroidered vestments, and Philippine notables are buried in the crypt. The Roman Catholic San Agustin is an active church with regular services and is a very popular wedding venue. It is an extremely worthwhile attraction for visitors to Manila.
Address: Calles Gen Luna and Real
Website: www.sanagustinchurch.org