National Museum of the Philippines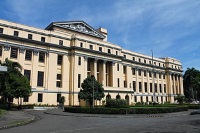 tradition © David Cohen
The large and comprehensive National Museum and Art Gallery of the Philippines preserves and showcases the cultural, historical and natural heritage of the islands with collections housed in two different buildings (both located within Rizal Park). Exhibits are categorised in five divisions: art, botany, zoology, geology and anthropology. Among the many archaeological exhibits is the skull of 'Tabon Man', the oldest human remains found in the archipelago. The section devoted to the Filipino People includes the preserved remains and treasures of the San Diego Spanish galleon that sank in Philippine waters in 1600.
Although reportedly short on funding, the museum is well-kept and clean with good facilities and air conditioning which proves extremely welcome on hot days. Photography is permitted but not flash photography. Although perhaps not what one would call a world-class museum, the National Museum of the Philippines is a deeply interesting place to visit for tourists looking to get to grips with the local culture and history.
A visit to the museum can be enjoyed by people of all ages, making it a good attraction for those travelling with children in the Philippines.
Address: Padre Burgos Ave, Ermita, Manila, Metro Manila, Philippines.
Website: www.nationalmuseum.gov.ph
Telephone: +63 2 527 1215