American Cemetery and Memorial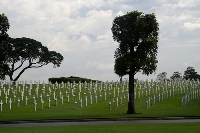 Once were soldiers © donabelandewen
Providing a quiet spot to retreat from Manila's rat race, the American Cemetery near the Makati commercial centre is a welcome oasis, much visited by tourists, especially veterans of World War II. The hillside cemetery contains thousands of white marble crosses marking rows of graves of those who died in battle.
The circular memorial contains the names of those missing in action engraved in marble columns; while huge wall mosaics depict battle scenes from WWII, and a small memorial chapel is located on site. The Manila American Cemetery and Memorial contains the largest number of American military dead from World War II in the world. Most of the 17,201 men buried here lost their lives in operations in New Guinea and the Philippines. The cemetery is peaceful, with plenty of shade and lovely views, Additionally, anybody with an interest in history will enjoy the extensive memorials and maps which give some insight into the war in the region.
A staff member is always on duty during opening hours to answer questions, give tours and escort visitors to particular graves and memorials. The cemetery is big and beautifully landscaped and maintained and it is one of the most popular, and moving, attractions in Manila.
Address: Taguig City, Manila, Metro Manila, Philippines
Website: www.abmc.gov/cemeteries-memorials/pacific/manila-american-cemetery
Telephone: +63 11 632 844 0212
Opening times: 9am - 5pm, Monday to Sunday.