American Cemetery and Memorial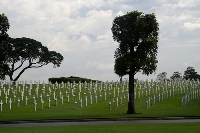 Once were soldiers © donabelandewen
Located near the Makati commercial centre, the American Cemetery is a quiet oasis in bustling Manila. The hillside burial ground contains thousands of white marble crosses, which mark the graves of those who died in battle. A tour of the site will reveal a circular memorial, where visitors can read the names of people who went missing in action, as well as mosaics depicting battle scenes from the Second World War. They will also find a small memorial chapel. Travellers who are interested in military history should note that the cemetery has the world's largest number of American military dead from World War II. Most of them died in New Guinea and the Philippines. The site's extensive maps and memorials will give visitors some insight into the how the war unfolded in the region. A staff member is always on duty during opening hours, and will give tours, answer questions, and escort visitors to particular graves and memorials. All things considered, the beautifully landscaped memorial is rightly one of the most popular attractions in Manila.
Address: Taguig City, Manila, Metro Manila, Philippines
Website: www.abmc.gov/cemeteries-memorials/pacific/manila-american-cemetery
Telephone: +63 11 632 844 0212
Opening times: 9am - 5pm, Monday to Sunday.