Las Pinas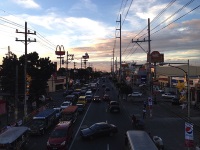 Las Pinas © RioHondo
Las Pinas, 12 miles (19km) from the centre of Manila, has now been swallowed up in the suburban sprawl of the city, it has kept its character and is a favoured stop on most tours of Luzon because of its famous bamboo organ. The organ is housed in the San Jose (Saint Joseph) Church, and has a very unique sound that draws international organists here every year in the second week of February for an Organ Festival.
The church is charming and would be worth visiting even without the remarkable organ, which is the only one of its kind in the world. It is an active church and visitors are welcome to attend services. Another attraction at Las Pinas is the Sarao Jeepney Factory, where visitors can watch these unique Filipino vehicles being assembled and learn how they came to be the favoured form of transportation on the islands.
Las Pinas is celebrated for being clean and eco-conscious, which is refreshing in the Philippines. It is a fun area to explore, preferably in a jeepney, and there are some fantastic restaurants and guesthouses in the village. Saint Joseph Church is in the oldest part of the village, making it a good starting point.
Website: www.laspinascity.gov.ph