Corregidor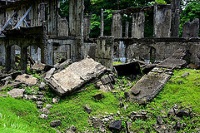 Corregidor Island © cisc1970
Shaped like a tadpole, this small island is a memorial and open-air museum that commemorates the Filipino and American troops' victory against Japanese forces. Corregidor is also the largest of several islands at the entrance to Manila Bay, and lies off the tip of the Bataan Peninsula. Its strategic position made it a good location for the last stand against the Japanese in the Pacific War, and its land remains littered with the detritus of battle. Travellers can arrange guided tours through the Corregidor Visitor's Information Centre, as well as many tour operators in Manila. Attractions include the Pacific War Memorial, the Japanese Garden of Peace, the Filipino Heroes Memorial and the Malinta Tunnel, where visitors can view an audio-visual presentation of the island's history.
Website: www.corregidorisland.com
Transport: There are regular ferry services available from Manila.