Tagaytay City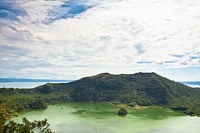 Taal Volcano © Vadim
Tagaytay is one of the most-visited tourist destinations in the Philippines, famous for the Taal Volcano. The volcano is unique in that it sits on an island in a lake, and has another lake within its vast crater. The views from the ridge on the access highway to the volcano are legendary.
As Tagaytay itself is the favoured 'summer capital' for Filipinos wishing to escape the Manila during the unpleasant summer heat, the area provides plenty of recreation opportunities, as well as top quality hotels and restaurants. Other sights in Tagaytay are: the 'Palace in the Sky', an unfinished complex originally meant to be a home for former president Marcos and now used as a viewpoint and park; and the huge flower farm, abloom all year round, on a slope at Barngay Guinhawa. Visitors can also enjoy activities like horseriding, golfing, snorkelling and diving, ziplining and boat rides, and there are camping, hiking and picnicking facilities.
The area became famous for its natural splendour and the scenery is indeed spectacular; sadly, however, the city is slowly becoming a victim of its popularity and commercial development may eventually obliterate the natural appeal. Tagaytay City is conveniently close to Manila and getting there by car or bus only takes an hour.