Basilica Minore de Santo Nino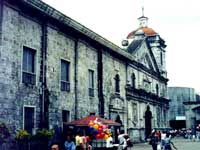 Santo Nino Basilica, Cebu © Philippines Department of Tourism
The oldest religious relic in the Philippines, an icon of the infant Jesus, is housed in the Basilica Minore de Santo Nino (Basilica of the Holy Child). The icon miraculously survived fire and other catastrophes through the years since it was first presented by Magellan to Queen Juana in 1521. The church itself was originally built in 1565, but was rebuilt in 1602 after a fire.
The facade of the church is a blend of Romanesque, neo-classical and Islamic architecture and is rather striking; the interior is richly decorated. The Santo Nino relic is housed in the chapel of the same name, just left of the altar. There is also a shop selling religious articles and souvenirs, and a small museum in the basement of the Pilgrim's Center displaying church artefacts including vestments and jewellery.
The church holds regular services and the schedule for masses and confessions can be found on the official website listed below. The art in the basilica is interesting and allows some cultural insight, and the grounds of the church are also lovely and worth strolling around. One of the top sights in the Philippines, a trip to the Basilica Minore de Santo Nino is highly recommended even for non-religious tourists.
Website: www.basilicasantonino.org.ph