Beaches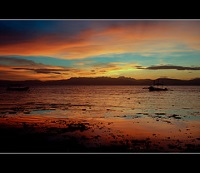 Sunset © Roy Chan
Numerous islets and beaches are connected to, or easily accessed from, the Cebu metropolitan area on day trips. Mactan Island is linked to Cebu City by a bridge and is the site of dozens of beach resorts, most of which offer full scuba services and watersports facilities. Olango Island offers pristine white sandy beaches, while Kansatik, southeast of Olango, features an underwater mountain festooned with coral, sponges and colourful fish.
Olango is also a paradise for bird watchers. A short drive north of Cebu City is Sagod, offering caves, beautiful beaches and some excellent dive spots. Capitancillo Islet, a little further northeast of Sagod, sits at the centre of a coral reef that extends for about two miles (3km). Calanggaman Islet, in the same area, features black coral and caves.
Gato Islet has lagoons, coral reefs and a sea-snake breeding ground. On the south-western shore of Cebu Island is Moalboal, another world-renowned dive destination, and Badian Island nearby has more underwater attractions and a five-star beach resort. Sun seekers also relish Argao, about two hours drive from Cebu City, where the beaches of Kawit, Mahawak and Mahayahay are picture-perfect.
The banded sea snakes found in Cebu are highly venomous but not aggressive - they tend to avoid swimmers unless they are harassed. If you are bitten seek immediate medical attention.