Lake Sebu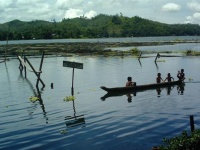 Young Divers © surnibaby
The region of south Cotabato in Mindanao, several hours' journey from Davao City, is for those who are courageous enough to seek 'off the beaten track' eco-adventures. Lake Sebu, near the village of Suralla, is surrounded by rolling hills and forested mountains, and is home to the T'boli, a highland tribe famous for their colourful costumes, intricate beadwork, woven work and brass ornaments, as well as the Tasadays, a cave-dwelling people.
The area abounds with waterfalls, natural caves and springs. A number of wonderful resorts can be found around the lake and the area is becoming increasingly popular with tourists, although many travel authorities still consider the region unsafe despite attempts by the local government to increase security and encourage tourism. One of the greatest attractions in the area is the fun Seven Falls Zipline, said to be the highest zipline in Southeast Asia.
The zipline takes brave travellers soaring high above thick jungle and beautiful waterfalls. For those who prefer to stay on the ground, there are many wonderful hikes around the lake and to the falls. Naturally there are also many exciting boat trips allowing travellers to explore the picturesque area and see how the locals live and work. For a taste of the local cuisine head to the floating restaurant at the Punta Isla Lake Resort.