Camiguin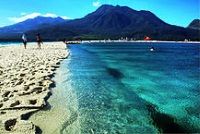 Camiguin © Allan Donque
The tiny island of Camiguin on the north coast of Mindanao is renowned for the friendliness of its people, epitomised in its lively annual festival dedicated to the humble lanzones fruit, which also happens to be one of the island's major sources of income. Camiguin's secrets are offen preciously guarded by seasoned travellers, in the hopes of keeping commercial tourism at bay.
Camiguin has more volcanoes per square metre than any other island in the world. Travellers can also bathe in a multitude of hot springs, or relax on stunning beaches and offshore islets. There is also a spring that spouts naturally carbonated water!
The island has 35 resorts and plenty of restaurants. Mambajao is the capital, situated on the north coast. Popular pursuits on the island (apart from enjoying the beaches) include climbing Mount Hibok-Hibok, an active volcano that last erupted in 1951, resulting in a death toll of 500; snorkelling through a sunken cemetry; reading gravestones that were submerged in a volcanic eruption in 1871; and taking a swim at Ardent Hot Springs, inland from Mambajao.
There are also many impressive colonial homes, buildings and churches remaining on the island. Two of the best churches to visit, if you can tear yourself away from the beaches, are the Santa Rosario Church in Sagay, and the San Nicolas de Tolentino Church in Mambajao.
Website: www.camiguin.gov.ph
Transport: There is regular sea and air transportation available from Cebu