Old Town (Starego Miasta)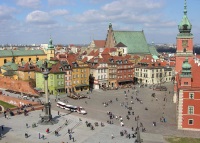 Old Town © Adrian Grycuk
The busy Old Town of Warsaw provides the historic focal point of the city, having been rebuilt in the original 17th and 18th-century style following the almost total destruction of the city during the war. The picturesque Old Market Square (Rynek) is at the centre, surrounded by restored buildings and colourful three-storey merchant houses with Baroque and Renaissance facades, lively open-air restaurants, art stalls and the Historical Museum of Warsaw.
Around the two old central water pumps the atmosphere is a constant buzz of activity with buskers, painters and musicians providing entertainment for the milling crowds, while around the fringes the clattering of hooves signals the arrival of another traditional horse-drawn carriage. Fanning out from the square is a network of cobbled streets and alleyways that contain beautiful Gothic churches and the former palaces of the aristocracy. The impressive Royal Castle was once the home of the Polish Kings and is now a museum displaying tapestries, period furniture, portraits and other decorative items.
The narrow streets also lead to the ramparts and watchtowers of the medieval walls surrounding the old city, providing unforgettable views of the heart of Warsaw. The Old Town is generally, and deservedly, the starting point for sightseeing in Warsaw.