Museum of Warsaw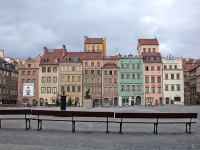 Museum of Warsaw © MM
The Museum of Warsaw is one of the best of the city's impressive array of museums. Its three storeys are crammed with fascinating exhibitions, covering every aspect of Warsaw's history and life from the city's establishment to the present day. It occupies almost an entire side of a square in Old Town, housed in quaint historical buildings and boasting 52 rooms with permanent exhibitions, four with temporary exhibitions, a cinema, a library, and a reading room. A special feature is a documentary film showing the destruction and reconstruction of the city, with footage shot by the Nazis during their calculated and systematic annihilation of Warsaw, and footage of the careful rebuilding after the war. The film is shown in English at 10am and 12pm from Tuesday to Friday, and at 12pm and 2pm on Saturday and Sunday.
Address: Rynek Starego Miasta 28-42, 00-272 Warszawa, Poland.
Website: www.muzeumwarszawy.pl
Telephone: +48 22 277 43 00
Opening times: 10am to 6pm, Tuesday to Sunday.