The Royal Way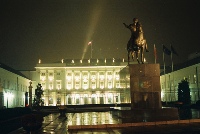 Presidential Palace © adjourned
Known as the Royal Way, this two-and-a-half mile (4km) route stretches from the Royal Castle in the Old Town to the stately King's Palace at Wilanów on the outskirts of the city. It is the most important thoroughfare, bisecting the central city from north to south, and is lined with galleries, museums and historical buildings (including St Anne's Church, where the Polish princes used to swear homage to the King).
Along the way are the royal gardens of Park Lazienki, one of the city's most beautiful green spaces with its lakes, peacocks and charming 18th-century Palace Upon the Water, which was the royal summer residence. There is a monument in the garden to the famous Polish composer Frederic Chopin, and outdoor concerts of his classical music are held on the lawns in summer. The Royal Way ends at the splendid Wilanów Palace, the former residence of King Jan III Sobieski, that was modelled on Versailles. It is now a museum containing a marvellous collection of old paintings and furniture.
In the well-kept park behind the palace is the Orangery, housing an art gallery. Guided tours of the lovely gardens and palace museum are available, but it is also possible to explore independently.
Website: www.wilanow-palac.art.pl