Malbork Castle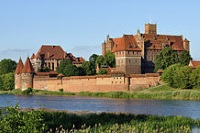 Malbork © DerHexer
Malbork Castle is the world's largest brick fortress and one of the most impressive in Europe. The Teutonic Knights built it in 1276 and slowly began to establish themselves as fearsome rulers, taking control of most of Poland until they were defeated at the Battle of Grunwald in 1410. The immense brick stronghold incorporates a system of multiple defence walls with gates and towers, guarding an interior of arcaded courtyards, chapels, a treasury, the Knights' Hall, and an armoury. The castle houses several exhibitions of tapestries, coins and medals, medieval sculptures, and weapons. During summer, the courtyard is used as a venue for sound and light shows. Guided tours are available and there are audio guides for those who prefer to explore independently, although the number of audio guides is limited.
Address: Staroscinska 1, 82-200 Malbork, Poland
Website: www.zamek.malbork.pl
Telephone: +48 55 647 08 00
Transport: 31 miles (50km) from Gdansk by train or bus
Opening times: 9am to 7pm, Monday to Sunday.