Wawel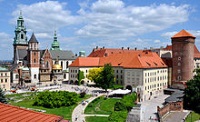 Wawel Castle © FotoCavallo
Wawel is a hill overlooking Krakow, upon which stands an architectural complex that includes Wawel Castle and the Gothic Wawel Cathedral. It was here that all the Polish kings ruling between the 14th and the 17th centuries were crowned and buried, and it lies at the heart of Poland's royal history. The Renaissance-style castle is now a museum, with visitors able to see the Royal Private Apartments, Crown Treasury, Armoury, and the State Rooms. Of the many chapels in the cathedral, the golden-domed Chapel of King Sigismund is the finest. The bell tower can be climbed for views over the city and to see the enormous 11 tonne bell. A number of different guided tours are available so check the official website listed below for details.
Website: www.wawel.krakow.pl
Transport: Tram 10 or a short walk from the Main Square, Rynek Glówny.