Kazimierz District and the Old Synagogue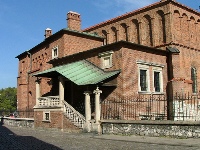 The Old Synagogue © emmanuel dyan
The Kazimierz quarter was the centre of Jewish religion, culture, and learning before the Second World War. Badly damaged during the Nazi occupation, it has been rebuilt so visitors can admire the historical architecture and get an experience of what daily Jewish life was once like. The area is enlivened by art galleries, kosher restaurants, and numerous cultural events. The Oskar Schindler Factory Museum is itself a popular tourist attraction in Krakow, dedicated to the memory of Schindler and the Jewish workers he managed to save from the death camps. The Old Synagogue is part of the Historical Museum of Krakow, where the collection of physical memories from the Kazimierz Jewish community is kept.
Address: Szeroka 24, 31-053 Kraków, Poland
Website: http://www.mhk.pl/oddzialy/stara-synagoga
Telephone: +48 12 431 05 45
Transport: Tram 3, 9, 11 or 13.