Castelo de Sao Jorge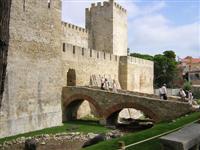 The walls of Saint George's Castle, sitting atop a hill guarding the Tagus, date from the Moorish occupation in the 10th century, but the site has been a fortress for centuries, possibly from 500 AD. The castle is regarded as the cradle of Lisbon, and today it provides a panoramic view of the River Tagus and the Alfama medieval district, which is spread out below it.
Visitors can walk the esplanades and climb the ramparts. A multimedia show is available during the day which brings alive the history of Lisbon. The castle grounds are planted with olive, pine and cork trees and provide a pleasant spot to relax.
Website: www.castelodesaojorge.pt