Alfama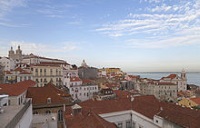 Alfama © Poco a poco
The oldest part of Lisbon, the Alfama quarter sprawls down the hillside from below the Castelo de São Jorge. It retains much of the traditional colour and atmosphere from the days when it was the ancient seat of the Saracens. Along the narrow cobblestone alleyways are taverns and street markets, interspersed with close-packed houses still occupied by stevedores, fishmongers and sailors.
Lisbon's renowned flea market, the Feira da Ladra, is held in the Campo de Santa Clara at the edge of the Alfama, every Tuesday and Saturday. The Alfama is also full of historic buildings and churches, which are well worth exploring. Some of the buildings display fading coats of arms, which bear testimony to the fact that the Alfama was once home to aristocrats.
At night, the Alfama takes a more mysterious turn with street lanterns throwing shadows on the medieval walls. It is advisable to avoid the area after dark in favour of the Bairro Alto café and nightclub district.